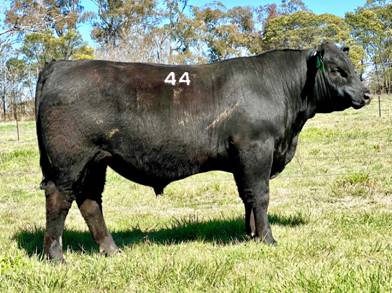 Yearling Bulls were in hot demand at the 2021 Ben Nevis Sale with 73/73 selling to a top of $70,000 for Lot 44 Ben Nevis Rambo R230 and an average of $16,171.  Rambo a high indexing son of Ben Nevis Newsflash sold to a syndicate including Glenmorgan Angus (NSW), Banquet Angus (VIC), Koojan Hills WA and Fernleigh (VIC). 
Many return buyers purchased at the sale after the drought years including Ian and Noella Spicer buying 7 bulls for an average of $16,000,  Mick and Sylvia Roberts from Springsure purchasing 5 for an average of $13,600, MRH Enterprises from Scone purchasing 4 bulls for an average of $18,500. 
7 bulls went to studs including the top price bull as well as Lot 47 by Beast Mode to Segenhoe Angus for $24,000, Lot 29 by Banquet Nixon to Dalwhinnie Angus for $18,000, Lot 32 by Beast Mode to Bulliac Angus for $16,000, Lot 4 by ben Nevis Monarch to Mountain Valley Angus for $24,000 and Lot 28 by Banquet Nixon to return buyers Bowmont Angus for $24,000.  Volume buyers included Middlebrook Park at Tamworth who purchased 5 bulls for $18,000 including the second top price bull Ben Nevis Rin by Ben Nevis Propogate for $28,000.