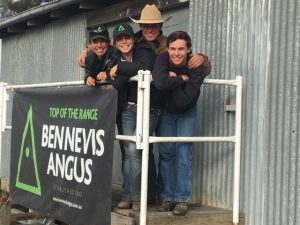 There is no greater gift than to love what you do. We are Ben Nevis Angus, 5th generation graziers in the high, cold country of Walcha NSW producing docile, thumping yearling bulls that allow our clients access to the worlds premium beef markets.
We are recognised as the premier supplier of yearling bulls in Australia and have sold bulls right across this country and NZ, as well as many into studs. Ben Nevis is 4000 (sometimes wild), acres reaching 1350 m above sea level in temperate often frigid conditions that requires a sense of humour. It runs up to 1100 cows with Spring and Autumn calving herds. We muster with horses, bikes, kids, utes, on foot and always with dogs.
If you do something we believe in doing it well. Or, in the words of my Dad and Ben Nevis founder Bruce Steel "Don't stuff it up".
We are fiercely proud to be a family-run beef business committed to regenerating the land and we get a special kick out of large mobs, of quiet, beautiful cows. We want to teach our kids the value of hard work and the importance of integrity and humility, and instill in them good old "sacred site" and "sacred cow" syndromes.
Sales:
– 80-120 twelve to eighteen mth old bulls Annual Sale 2nd Wed in September
– Private bull sales to larger pastoral businesses
– Large numbers of commercial heifers throughout year for joining or PTIC
– Mature Stud females
– Embryo's
HISTORY
During the 1902 drought the Steel family changed completely over to Angus when the Shorthorns they had died on the rivers while the Angus survived by climbing and foraging in the hills. (Sorry Shorthorn lovers)
When Bruce Steel (Ben Nevis Founder) went underage at 16 to WW2 his commanding officer was HG Munro of Booroomooka who inspired him to start an Angus Stud. He did this with his father in 1947 with Abington bloodlines.
And so began a whole way of life, living and breathing the Angus breed as a single source of passion and joy. Today Ben Nevis is a 4th generation family business with all the family involved including Cherry and Kylie Steel and kids Jack and Maggie Halliday and Bonnie Cox.
Bruce passed away at the age of 92 in 2017 and is fondly remembered as an inspiration and mentor to many Angus breeders as well as a Feminist creating opportunities for young women to run studs. He and Cherry ran the original Roundup with Jason Strong and were recognised as the inaugural recipients of the Stewarts Award for services to Angus Youth. Bruce was a Councillor, Chairman of NSW State Committee and New England Angus Breeders.
Pictured from left: Stu and Erica Halliday and Cherry and Ben Nevis Founder Bruce Steel.