While being one of Australia's oldest performance recorded herds, we are much more dedicated than just breeding numbers on paper. We go the extra mile to breed with technology and old fashioned common sense and select Sires and Donor Dams whose actual performance shines when all animals are treated the same.
We comply with the same rules that govern profitability in our large commercial beef enterprise. We cull cows on fertility, feet and temperament only and we use sires to take the herd forward.
We have focused on explosive growth and softness selecting animals that not only marble but express that marbling earlier to target the premium markets with less days on feed. While not extreme, we differ from many Angus studs in that we aim to produce a larger frame, heavier animal with extra IMF contrary to the smaller style Angus proliferating today.
Fire and Ice breeding of complementary types and trait combinations has been used very successfully to leapfrog performance, and to maintain our unique Ben Nevis edge and style. We will choose sires that clinically match the cow lines to take us where we want to go even if they are "out there". Choosing sires is where we also get to have a little fun and use our good old fashioned cattle skills to assess maturity type, structure, skin, muscle and doing ability to meet the criteria of the premium markets.
To increase uniformity and performance in a fire and ice system we strongly believe in the power of pedigree's and female lines such as our famous, Kiwi, Geranium, Floryx and Jean families. We join large lines of similarly bred females the same way which gives us the edge in supplying quality as well as consistency.
Why Temperament is Not Negotiable
One day in 2000 when Dad was in his 70's we were taking a mob of commercial cows and older calves to the yards when without warning one spun round at the back of the mob and ran straight over him knocking him to the ground in an open paddock. Any other cow would have run back to the mob but this cow became incensed. She spun and hit him repeatedly knocking him unconscious and swiping me away twice as I tried to fend her away throwing me 3 metres away through a fence.
She continued to stomp on him, bury her head into him and kneel on him until my husband Stu reached us from across the paddock he flew straight in and put the cow in a head lock. While she fought Stu and dragged him across the paddock I pulled Dad away.
Dad's injuries were intense and he was black and blue all over. He had 23 breaks in his ribs, a punctured lung, she tore off his left ear and split his arm open and cracked his cheek bone. He was expected to die and they asked me to contact his loved ones to put on the phone to say Goodbye. He was put in an induced coma but was fortunate (not to mention tough and wiry), and he survived against the odds. But it changed all of us forever.
There is no room in our herd for animals with bad temperament. It is the first thing we cull and select for. It is not negotiable. Animals in their very nature can be unpredictable but in our Breeding Philosophy there is no more important trait than temperament.
Our Brand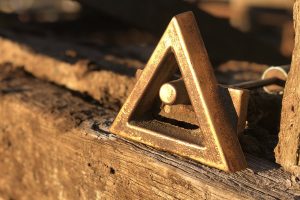 Our brand defines us. The triangle being the strongest of forms represents the mountain where we live (Ben Nevis), and what we strive to do well. Quality, Integrity, Family.